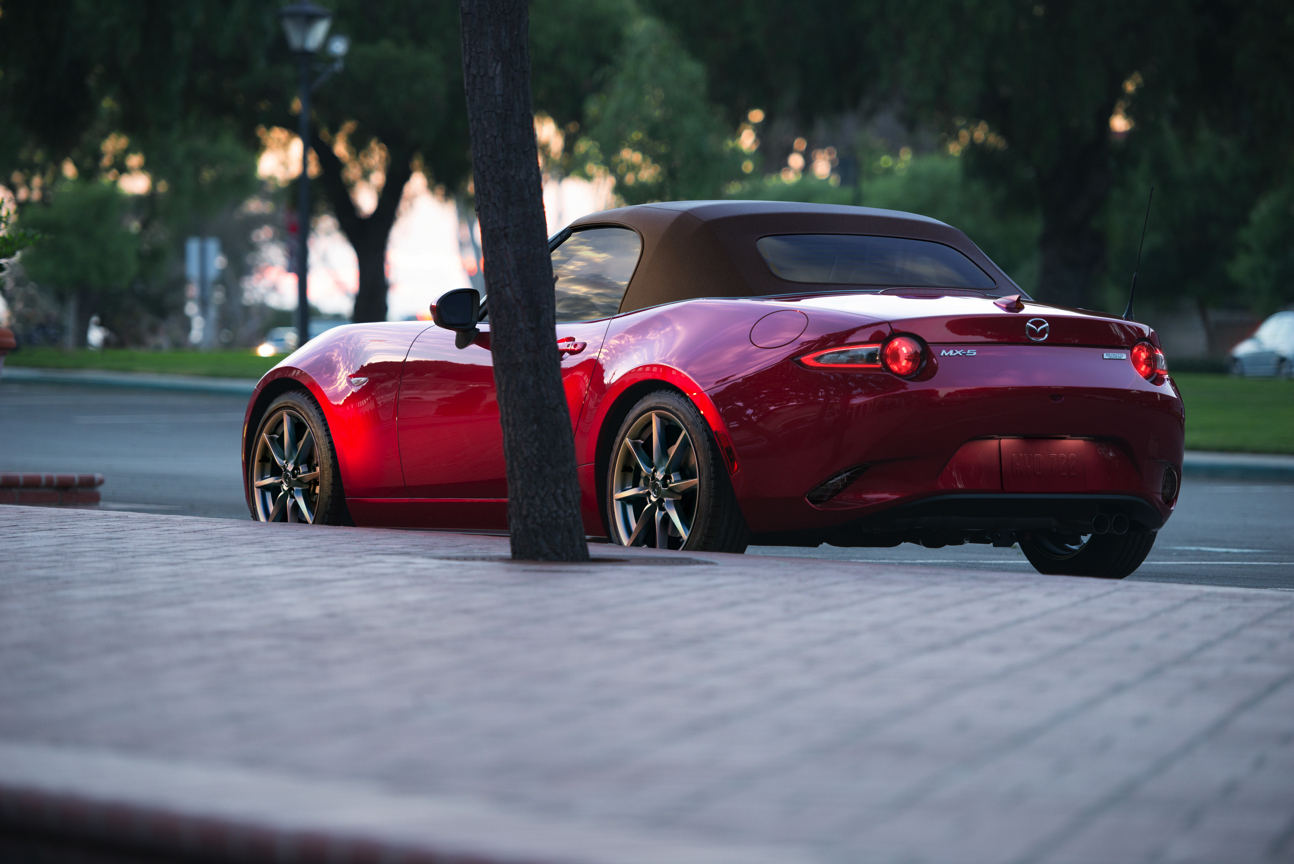 Mazda's Magic Formula
Over 25 years ago, Mazda unveiled the original Mazda MX-5 Miata at the Chicago Auto Show and reinvigorated one of car-dom's best subgenres. The small, nimble sports car was dying out as the primarily British and Italian firms that built them began to fall out of favor. Mazda meticulously emulated the best attributes of those classic cars and executed its design with previously unheard-of quality.
That proved to be a magic formula, as the Miata has been a bestseller for over 25 years and three generations. With the fourth-generation Mazda MX-5 Miata, the manufacturer rebooted its iconic sports car with a sharper focus on performance and driving pleasure.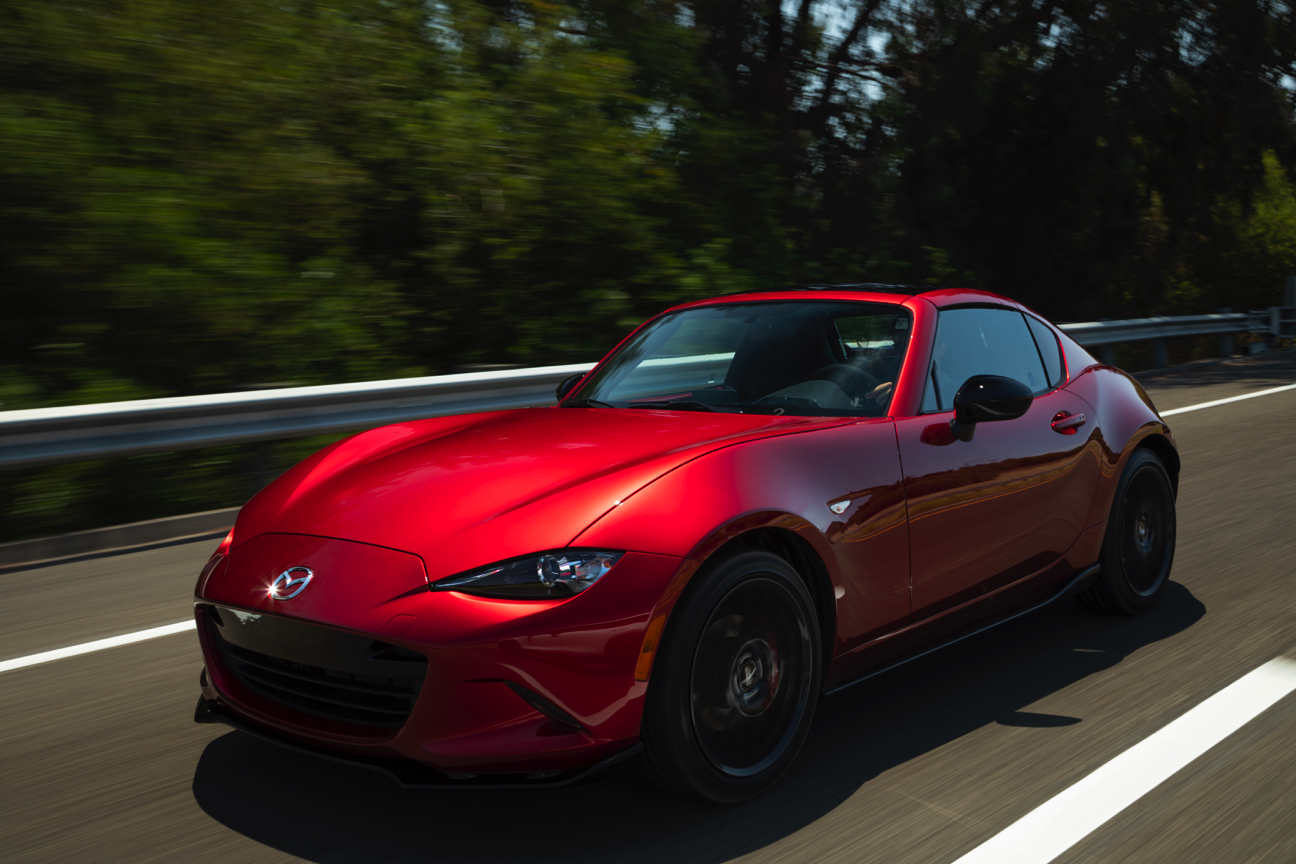 Powertrain and Performance
The 2019 Mazda MX-5 Miata benefits from the carmaker's efficiency-focused SKYACTIV technology, which helps wring the most performance out of every component. It's the definition of "less is more," and gives the Miata a minimalist character that's exactly what you want in a small sports car.
The sole engine option is a 2.0-liter four-cylinder, which produces 181 horsepower (a 26 horsepower increase over the previous year model) and 151 pound-feet of torque (a 3 pound-foot increase over the previous year model). Redline is also increased from 6,800 rpm to 7,500 rpm, with the entire rev range benefitting from a better torque curve. To achieve these power enhancements, the engineers at Mazda shaved grams of weight from the engine components, improved the fuel delivery, and added a new exhaust system, among other improvements. That power is sent to the rear wheels through either a six-speed manual or automatic transmission. The automatic transmission benefits from a new final drive ratio that responds more spiritedly to the driver's input.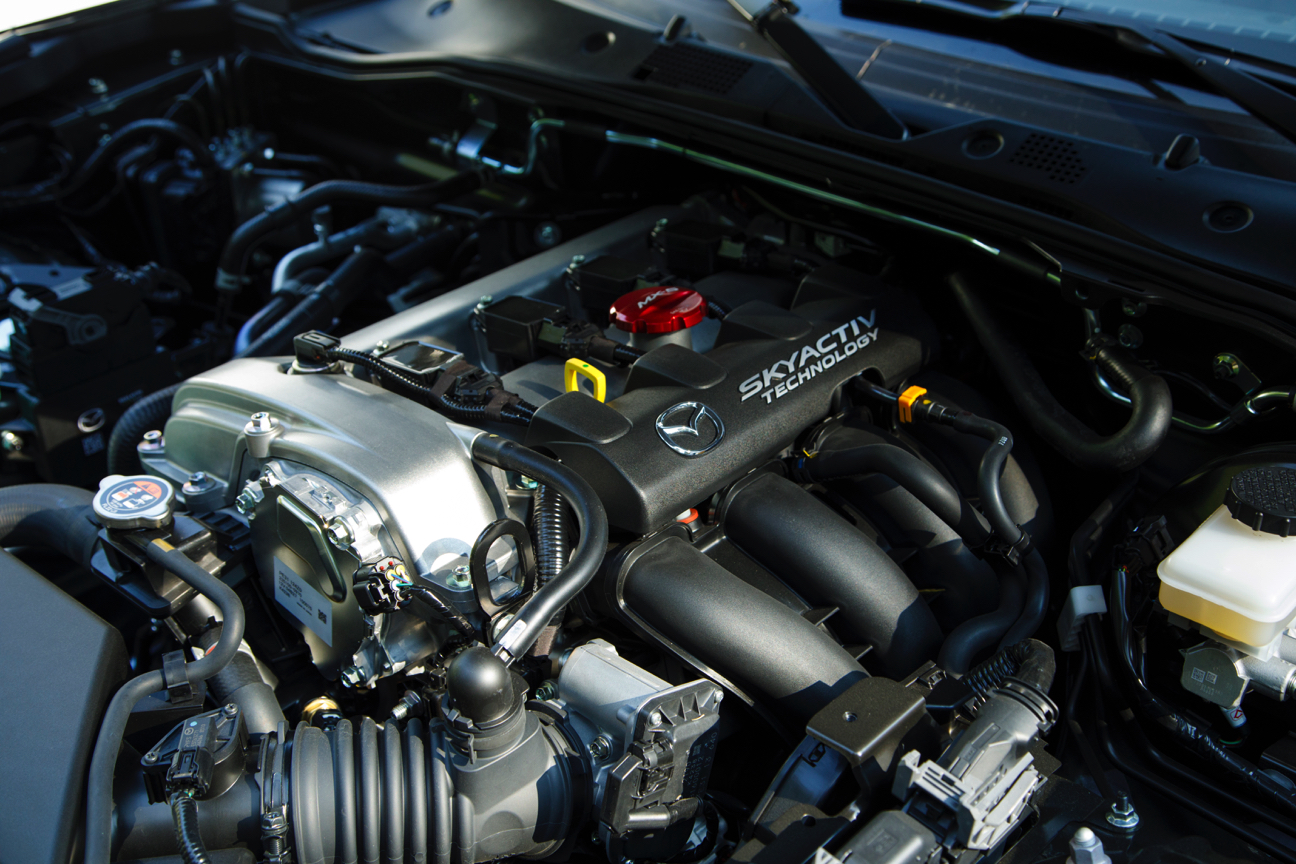 The 2019 MX-5 Miata only gains 7 pounds over the previous year, despite a host of new features and increased power. Keeping the car light improves every aspect of the driving experience, from acceleration and braking to steering feel and handling. An aluminum steering shaft replaces the steel one used in previous years, which is just one of the many ways Mazda has avoided adding pounds while also adding value to this roadster.
Features and Trims
The MX-5 Miata is available only as a roadster: a two-door, two-seat convertible sports car. It comes in three trim levels with prices starting at $25,730.*
The base Sport model comes well equipped with standard features like LED headlights, 16-inch alloy wheels, dual exhaust outlets, Mazda Advanced keyless entry, Bluetooth®, three-spoke multifunction steering wheel, leather-trimmed shifter and parking brake handle, and cloth-trimmed bucket seats.
In addition to the applicable standard features from the Sport trim, Club models come standard with the 6-speed manual transmission, Bilstein dampers, a front shock tower brace, and a limited-slip differential. For Club models equipped with an automatic transmission, heated cloth seats, spoilers, a BOSE® 9-speaker sound system and Blind Spot Monitoring with Rear Cross Traffic Alert are standard.
For those looking to get the absolute best driving experience from the MX-5 Miata, Club models outfitted with a manual transmission are also able to add packages that make this roadster the ultimate driving machine. Available Brembo brakes with red calipers, 17-inch gunmetal BBS forged alloy wheels, and heated Recaro bucket seats make the MX-5 Miata a perfect platform for motorsports.
The Grand Touring trim offers 17-inch dark silver wheels, automatic headlights, rain-sensing windshield wipers, heated seats, a 9-speaker BOSE Premium audio system, and navigation. A new GT-S Package is available for the Grand Touring trim when equipped with the 6-speed manual transmission, adding Bilstein dampers, a front shock tower brace, and a limited-slip differential.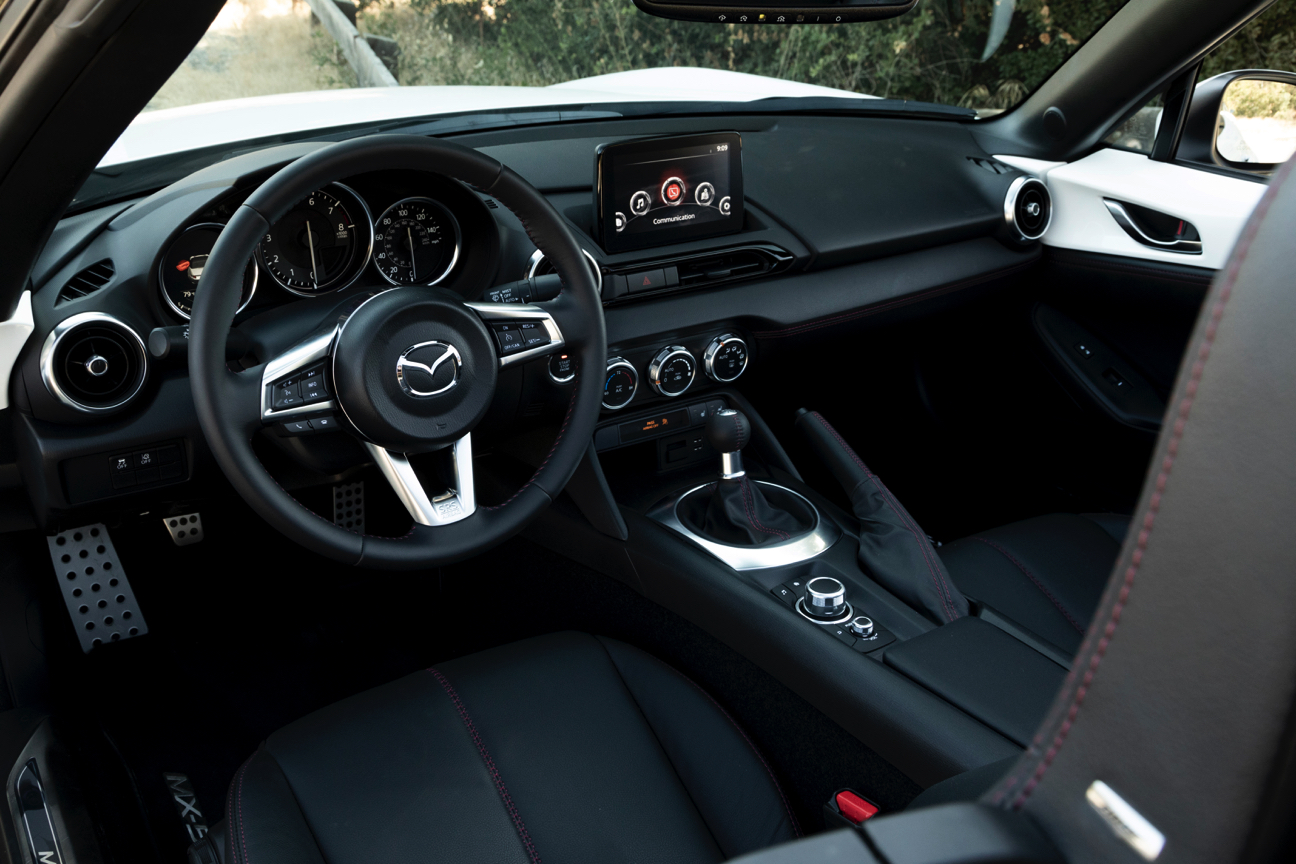 Design
The Miata adopts the KODO design theme that makes the rest of Mazda's current lineup among the best-looking in the business. Designers took full advantage of the rear-wheel-drive platform, giving the Miata a long hood, short rear deck, and sheet metal that looks like it's been pulled taut over a muscular body. Mazda also made a point of keeping the front end as low as possible while still meeting safety standards.
The convertible soft top is light and easy to operate while seated, and Mazda says the interior was designed to minimize disturbance in the cabin from the wind. The interior is still as clean and simple as previous Miata generations but gets a tech update with features like Bluetooth® and an available Mazda Connect infotainment system with a touchscreen display and navigation (on the Grand Touring model).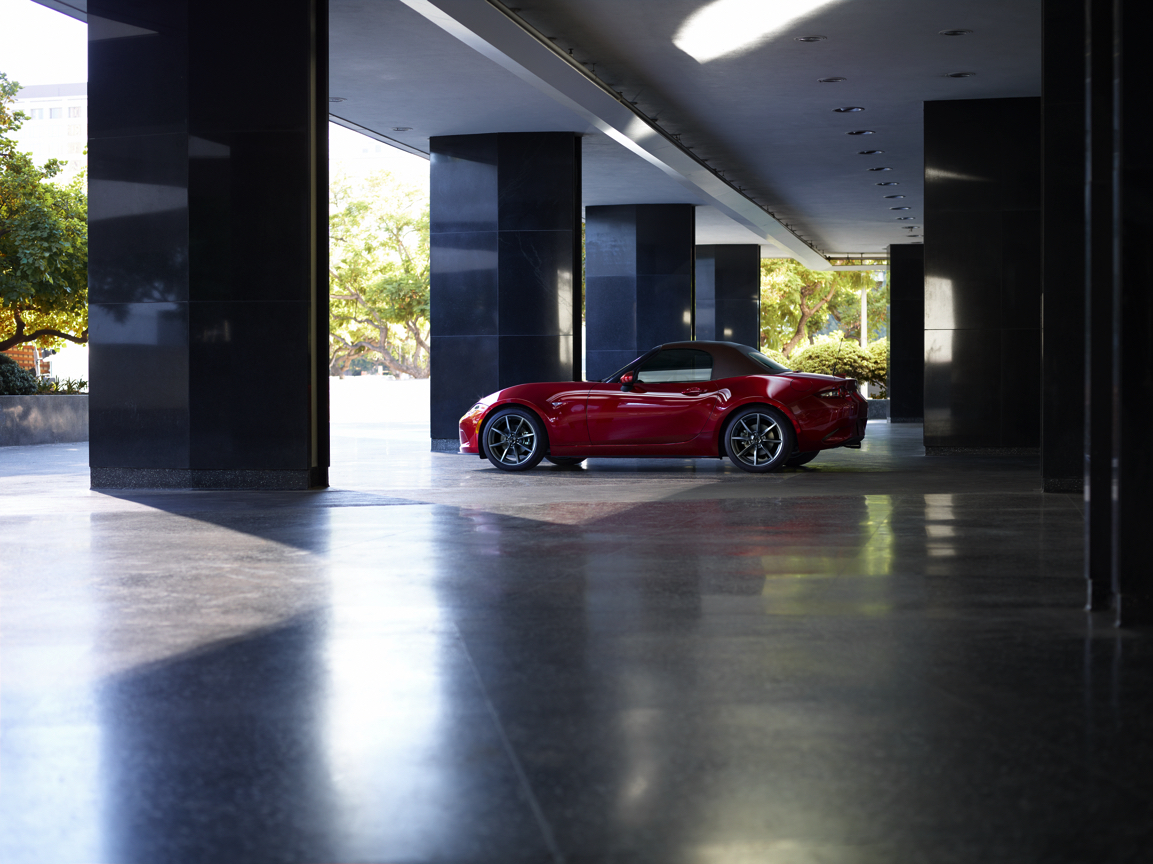 Safety
Standard safety equipment on the 2019 Mazda MX-5 Miata includes anti-lock brakes, stability and traction controls, and front and side-impact airbags, as well as the new standard rearview camera. Options like Smart City Brake Support, Lane-Departure Warning, and Blind Spot Monitoring with Rear Cross Traffic Alert are also available.
Bottom Line
The 2019 Mazda MX-5 Miata stays true to its purpose. While larger and faster sports cars exist, you'll be hard-pressed to find one that looks as good as and drives better than the Mazda MX-5.
Be sure to contact us online or visit at Cutter Automotive Galleries to schedule a test drive.
* Manufacturer's suggested retail price does not include $895 for destination and handling ($940 in Alaska), taxes, title or additional fees. Dealers set actual sale prices.
Image Credit: Mazda